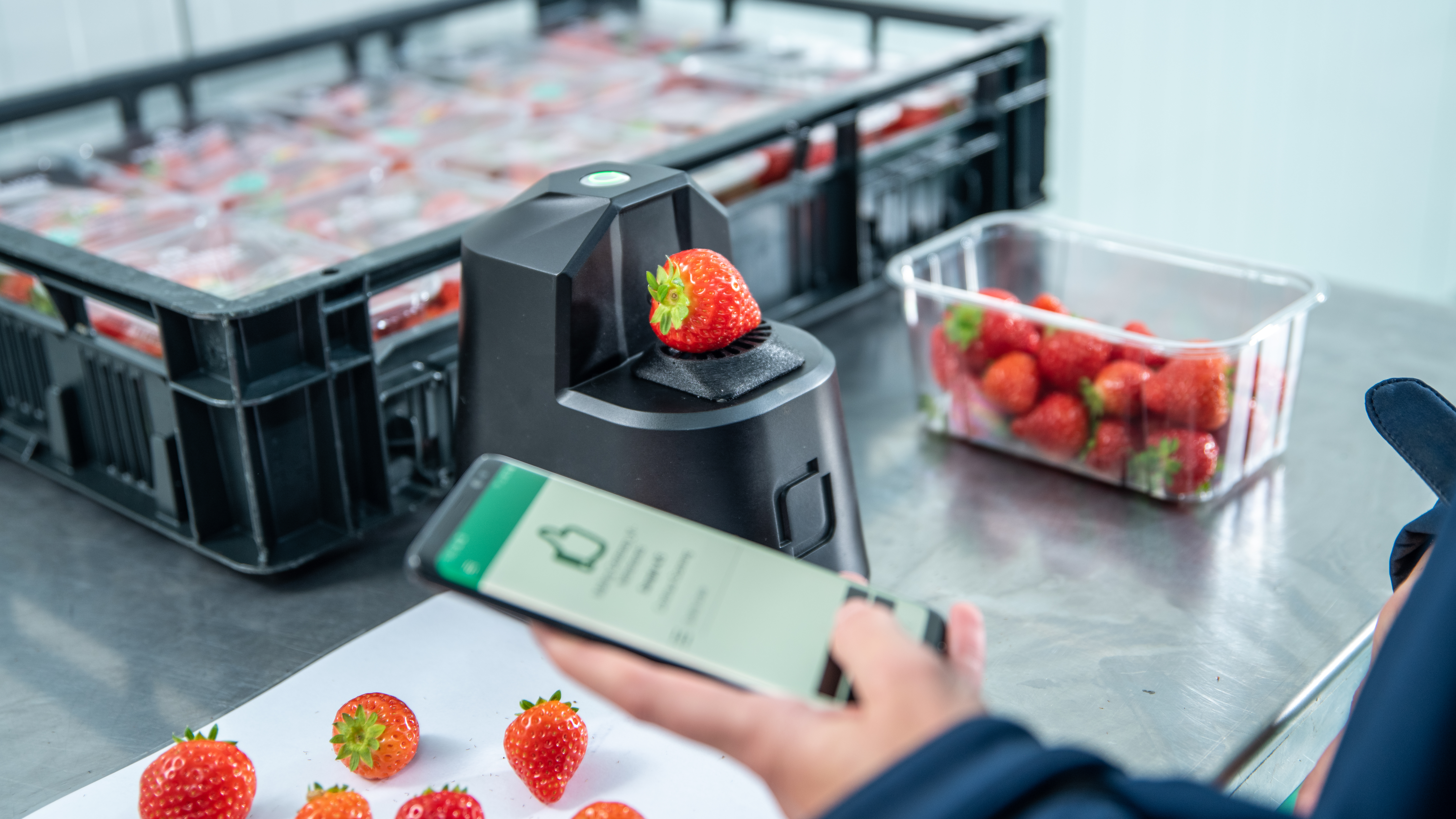 OneThird, a food tech company created to address the annual loss of one-third of all food produced due to spoilage, today announced the deployment of its AI-powered scanner technology in the supply chain of Bakker Barendrecht, part of Greenyard and the sole supplier of fresh fruit and vegetables for Albert Heijn, the largest supermarket chain in The Netherlands. The technology empowers Albert Heijn, Bakker Barendrecht and their growers with real-time information to better estimate the quality and exact shelf life of strawberries in real-time so that they can optimize "best before" dates, opt to ship locally or within a shorter trucking distance to maintain shelf-life. The result is perfectly ripe, fresh, delicious strawberries that reach more customers. View a short video here.
The shelf life of produce is typically only known in hindsight when it's too late to address. OneThird combines AI in the form of proprietary algorithms with near-infrared-based scanners to determine the remaining shelf life of produce along the supply chain and provide actionable insights. Currently, strawberries receive a standard "best before" date. External influences during growth, such as weather, often vary and impact harvest conditions and shelf life. OneThird's AI-powered scanner technology is proven to eliminate up to 25% of waste across the produce supply chain.
"We are always looking for opportunities to improve the quality of our fresh products further," said Rob Wessels, R&D Specialist at Bakker Barendrecht. "We also want to prevent waste as much as possible. Every step in the produce supply chain — from farm to fork — can contribute to waste. The ability to monitor quality – such as shelf life – objectively and at any time enables us to manage our planning and logistics more efficiently."
Strawberries are a beloved fruit — Europeans eat up to 1.2M metric tonnes (1.32M U.S. tons) per year — but strawberries are also one of the world's most wasted foods. More than £30M (€34.5M or $37.3M) worth of strawberries are wasted each year in the U.K. alone, while in California — which produces 80% of the strawberries grown in the U.S. — most average strawberries go uneaten. While farm issues cause some of these problems, spoilage in the supply chain and at grocery stores is a huge contributor.
The United Nations identifies food waste as a major sustainability development challenge. Up to one-third of the food brought to market annually is wasted at an estimated cost of $1 trillion, and almost half of it – 40% – is fresh produce. Additionally, a recent report from the U.N. estimates that a quarter-billion people went hungry in 2022 due to food insecurity, making it even more critical for companies to adopt technology to preserve foods for customers and ultimately feed more people.
"Making informed and data-driven decisions in the supply chain plays a key role in addressing product loss due to spoilage. We've worked hard to create technology that helps address this persistent global challenge that directly impacts food scarcity," said OneThird CEO and founder Marco Snikkers. "We are proud to have installed OneThird's AI-powered scanner technology in the Albert Heijn supply chain. Their customers will have the freshest strawberries possible while the supply chain reduces food waste. It's a win-win!"
Today's announcement follows a multi-year collaboration between Bakker Barendrecht and OneThird to develop and validate OneThird's strawberry technology. Bakker Barendrecht will ultimately use the technology to estimate the shelf life of other fruits or vegetables prone to spoilage.
OneThird's proprietary scanner technology empowers Bakker Barendrecht — the sole supplier of fresh produce for Dutch supermarket chain Albert Heijn — with reliable shelf life prediction data, preventing food waste and offering consumers the freshest produce possible
About OneThird
OneThird is on a mission to address a $1 trillion annual problem — reducing the loss of one-third of all food produced worldwide. OneThird's food tech solutions for growers, distributors and grocery retailers allow for high-accuracy shelf life prediction of produce at any stage of the supply chain — ensuring the right product gets to the right place at the right time. Using passion and creativity, OneThird delivers meaningful solutions to improve sustainability efforts, feed those in need, and save customers money.